that's why the time to upgrade Drupal is now.
if you're on Drupal 7, you must upgrade to Drupal 8.
Drupal 9 is coming this June, 2020. Previous versions will no longer be supported after November, 2021. So why not wait until then to upgrade? Because:
there is no upgrade path from Drupal 7 to Drupal 9.
You must be on Drupal 8 to upgrade to Drupal 9. If you've kept current with Drupal 8 releases, the transition to Drupal 9 is virtually seamless. But if you're on Drupal 7, moving straight to Drupal 9 means updating Drupal core and rebuilding your entire website from scratch.
that's why the time to update Drupal is now.
Upgrade your website to Drupal 8 now and receive 6 months of free DrupalCare proactive support to ensure a seamless upgrade to Drupal 9 when it is released later this year.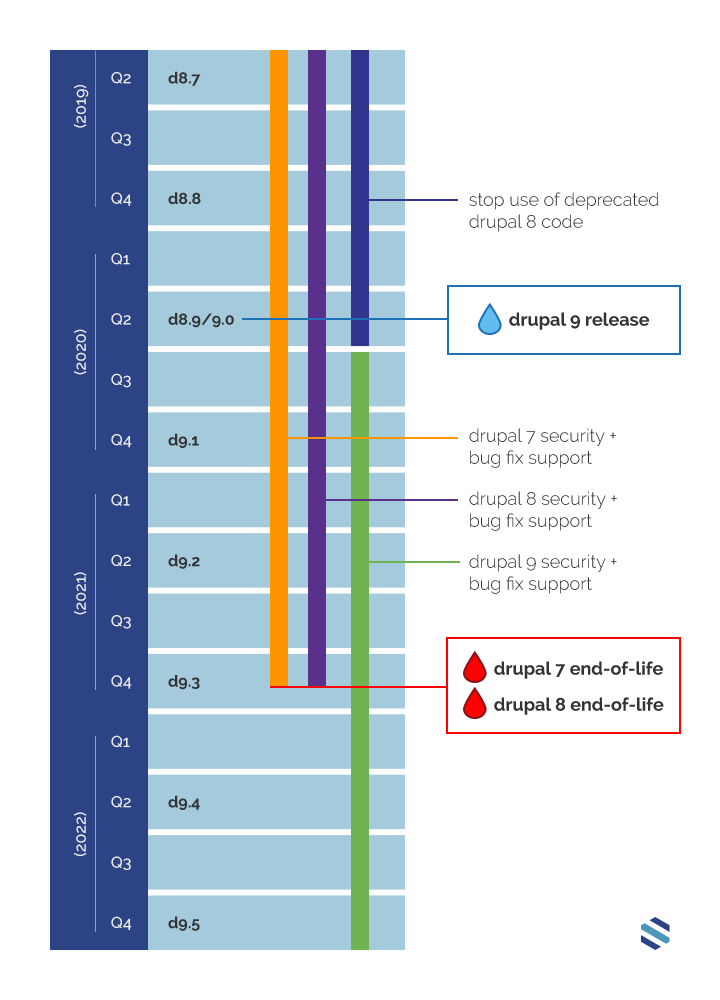 68%
of organizations use Drupal 7 and are in danger of running their websites into a dead end. Don't be one of them.
6 months
are typically required to plan and complete a Drupal 7 to 8 upgrade with content migration. Get started now.
We can help.
Symmetri Technology has been developing world-class Drupal websites for more than a decade, with exceptional success for complex Drupal 8 deployments—the fundamental basis for adopting Drupal 9.
If you're currently on Drupal 7 or earlier—or if you're struggling with an inferior CMS and ready to make your move into the future—we're here to help.
We'll work with your team to create and execute a migration plan that determines which content goes where and why—as well as filling in any missing content. Our proven QA and UAT processes ensure that every article, headline and SEO ranking contributes to a clean Drupal 8 upgrade.
Don't abandon your web presence to obsolescence. Make the move to Drupal 8, today's most powerful and mature open-source CMS, and receive 6 months of free DrupalCare proactive support that will ensure an effortless Drupal 9 upgrade.