Posted by Shane Sevo on September 6, 2016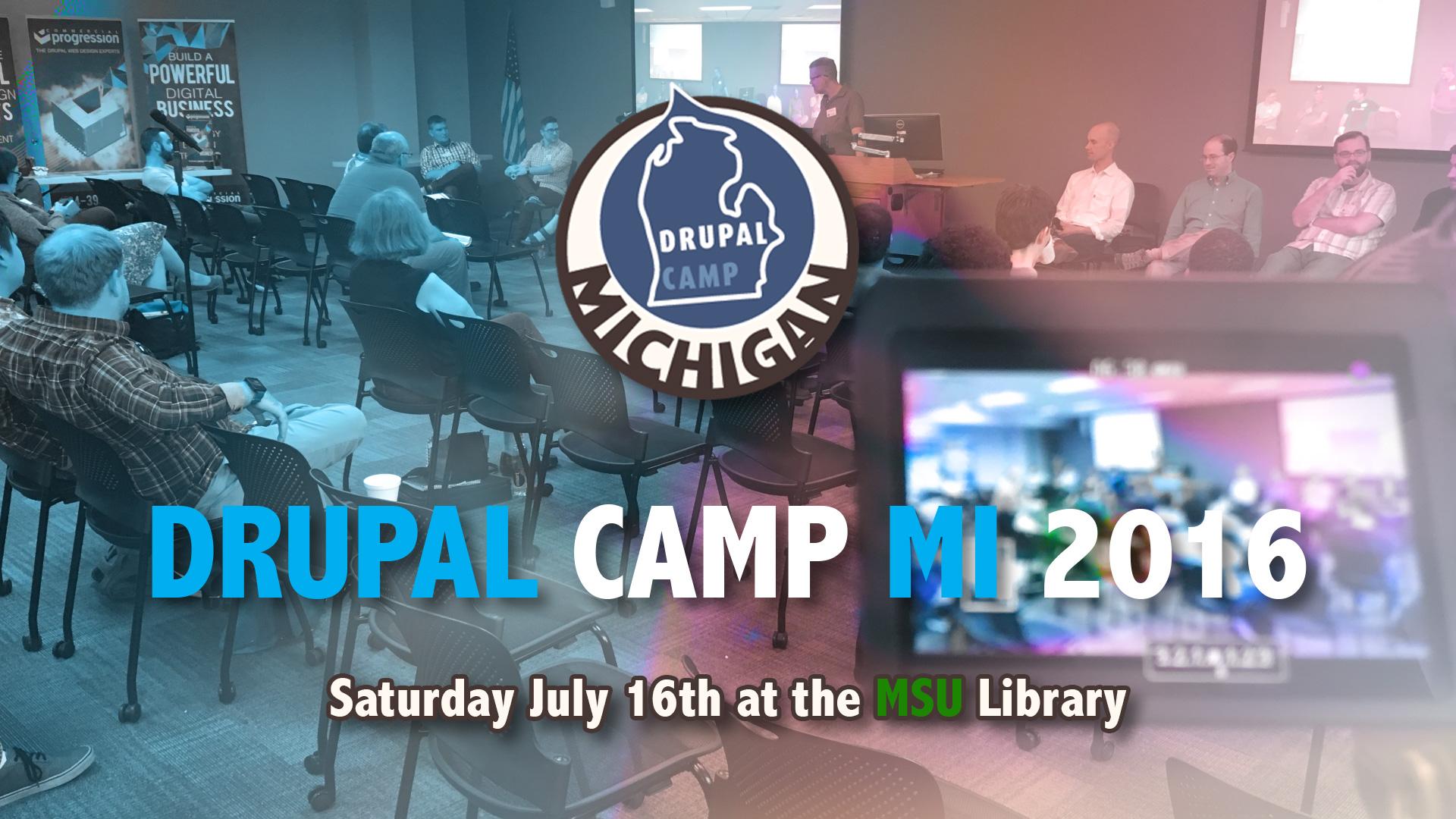 DrupalCamp Michigan took place on Saturday July 16th, 2016 at the Michigan State University main library in Lansing Michigan. Michigan Drupal developers from across the state arrived bright and early for this day long camp of presentations and panel discussions. As a founding member of the Michigan Drupal User Group, it was Commercial Progression's distinct honor to once again sponsor this year's camp and participate in delivering session content.
This year, Commercial Progression Drupal developers delivered two sessions and participated in the closing panel discussion with an open question and answer period.
In the following sections of this blog post you will find the video recordings of each of these sessions from the camp. Additionally, we have included the slides from each presentation if you want to follow along via our slideshare. Sit back and take in the presentation videos from our YouTube channel, or follow along with each slide deck, either way... there is plenty of Drupal knowledge dropped in each presentation, enjoy!
Your next library website in Drupal 8
Brad Czerniak is a seasoned Drupal Developer at Commercial Progression as well as being a certified library scientist. Brad took this opportunity at DrupalCamp Michigan 2016 to present on the inevitable upgrade advantages for libraries from Drupal 6 and 7 to Drupal 8. Brad's presentation contains many elements of proper discovery process that pertain to all web design and development projects. Sit back and enjoy a tour of web development best practices for your next Drupal 8 project.
Topics covered
Discovery and planning process
Information architecture and data modeling
Technical considerations
Differences between Drupal 6/7/8 as it applies to planning
Atomic design and Drupal 8 theming
Brad's strong opinions about library websites
Possibilities for extending the core experience
Additional Information from Brad's DrupalCamp Session
Drush: the Best Tool Ever
Hillary Lewandowski is an accomplished Drupal developer and an expert in the daily usage of Drush, the powerful shell interface for managing Drupal websites from a command line. If you want to take your skill to the next level as a Drupal developer, you need to know Drush inside and out.  In this presentation from DrupalCamp Michigan 2016, Hillary takes us to school on this amazing and essential tool.
Target Audience
Developers and Programmers
Site Builders
Administrators
Themers and Designers
Additional Information from Hillary's DrupalCamp Session
Drupal Experts Panel Discussion
The closing remarks to this year's DrupalCamp Michigan were immediately preceded by an informal panel discussion featuring Drupal experts from across the state. Topics of discussion ranged from Drupal 8 upgrade and migration experiences to a survey of all of the meetup groups and resources available for learning Drupal in Michigan. This panel discussion serves as a good overview of top Drupal questions and answers from the event.
Special thanks to all of the sponsors and volunteers that teamed up to pull off this year's DrupalCamp Michigan. Michigan State University and the library staff made for a most gracious host. Always encouraging to see the local community come together, we are already looking forward to next year!
In between DrupalCamps, be sure to join the Michigan Drupal Meetup for quarterly events and other Drupal learning opportunities.