symmetri is a full-service digital agency.
We focus on four critical areas to build the best website experience for your users. This comprehensive approach helps us ensure that even your most ambitious goals get the attention they deserve. From our in-depth discovery process, to our world-class design and development, we'll make your brand the hero it deserves to be.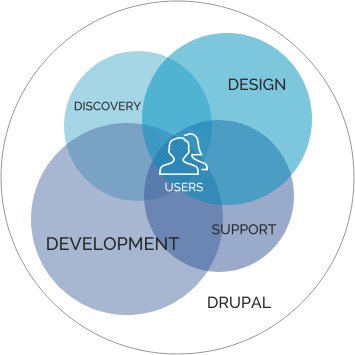 discovery
Our Discovery process determines your site's business objectives, as we thoroughly explore customer personas and their decision-making process.
research
persona development
journey mapping
design
Our user experience design builds a foundation to engage visitors—creating the style and tone that will give your site a unique personality.
information architecture
user experience
content development
development
We are the Drupal development experts. With a full roster of front- and back-end professional developers to serve you, no site is too small or too large.
responsive web design
mobile
e-commerce
support
Drupal websites are known for their stability and security, but every enterprise-grade website project must be properly maintained and supported.
DrupalCare
development support
cloud hosting

we are the Drupal experts.
Symmetri Technology designs, develops, and supports world-class Drupal websites. As an established Drupal consultant agency, we provide comprehensive web strategy and execution for all types of Drupal projects—including higher education, manufacturing, nonprofit, healthcare, marketing, and e-commerce.
Our dedicated team of on-shore web programmers and development staff are ready to leverage the Drupal platform for your next web application or website design project.
a symmetri marketing group company.
As part of the Chicago-based Symmetri Marketing Group, our portfolio offers a complete host of digital and brand marketing services.