challenge.
As a specialist in development services, software products, front-end interfaces, and back-end RPG applications, CNX's latest innovation, Valance, lets users create modern IBM i web apps on all desktop browsers. Whether organizations don't think it's necessary, or are contemplating a move, demonstrating how this new technology can meet the needs of both developers and the CIO could open doors to more opportunities. Symmetri was asked to redevelop their website with new brand messaging that capitalized on core elements of their business—specifically low-code development and how the Valence solution helps customers be more agile.


solution.
Symmetri began by establishing a new brand strategy for CNX that would more clearly define why it exists and how it could differentiate them in the marketplace. Through leading-edge technology, class-leading support, and an unwavering focus on moving forward, CNX instilled greater confidence, capability and self-sufficiency in those who create customer experiences. The new website reflected this with a clean and modern design. Additional customer testimonials would reinforce the values and benefits. Together with CNX, we reminded people that they help build experiences users love. The new Valence solution would free them from old-fashioned, unproductive interfaces—allowing their business to work more efficiently.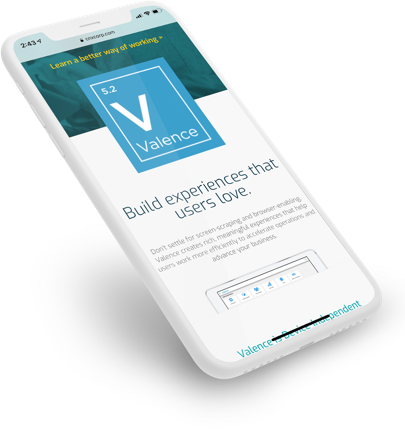 results.
CNX's site traffic increased 63.14%, with conversions increasing 305% in the first month following the launch of the new site and of paid search campaigns. Direct traffic increased 123% following the site launch. Quality of visitor metrics also improved significantly during that same period with the average session duration increasing 24% and pages increasing 4.5%. And the bounce rate decreased 17%.
Let's build a braver digital world.