Commercial Progression presents Hooked on Drupal, "Episode 14: DrupalCon New Orleans 2016 Highlights with Steve Burge from OSTraining". In this special DrupalCon edition of Hooked on Drupal we conferenced in Steve Burge of OSTraining for a full report from his DrupalCon New Orleans note sheet. Held on May 9-13, DrupalCon New Orleans was the premiere event for the North American Drupal community in 2016. Steve is joined by Brad Czerniak (developer at Commercial Progression) for an in depth review of the Driesnote (State of Drupal May 2016 Presentation) and other DrupalCon highlights.
Driesnote 2016 Review and DrupalCon Highlights
The Driesnote highlighted the need for improved module migration, training, and a solidified upgrade path in order to see Drupal 8 adoption increase. Commercial Progression sponsored the OSTraining Drupal 8 video training series kickstarter back in 2015. This new collection of video resources will focus on the migration and upgrade path from Drupal 6 and 7 to Drupal 8 and is scheduled for delivery in 2016.
Other features of Drupal 8.1 and 8.2 were discussed in terms of upgrade path and the possibility of the media module going to core. The Driesnote also commented on the recent State of Drupal 2016 Survey results in which site builders requested better media management tools. Steve and Brad discussed the further implications of outside-in design approaches and decoupled Drupal considerations. Pantheon, Platform.sh, and the rise of enterprise hosting solutions for Drupal was discussed as having a noteworthy presence at DrupalCon New Orleans.
Hooked on Drupal is available for RSS syndication here at the Commercial Progression site. Additionally, each episode is available to watch online via our YouTube channel, within the iTunes store, and now via Stitcher.
If you would like to participate as a guest or contributor, please email us at
Content Links and Related Information

Hooked on Drupal Content Team
STEVE BURGE - Founder of OSTraining
BRAD CZERNIAK - Developer


Right, Brad Czerniak, developer at Commercial Progression in Northville, Michigan
Left, Steve Burge of Sarasota, Fla., founder and CEO of OSTraining
Podcast Subscription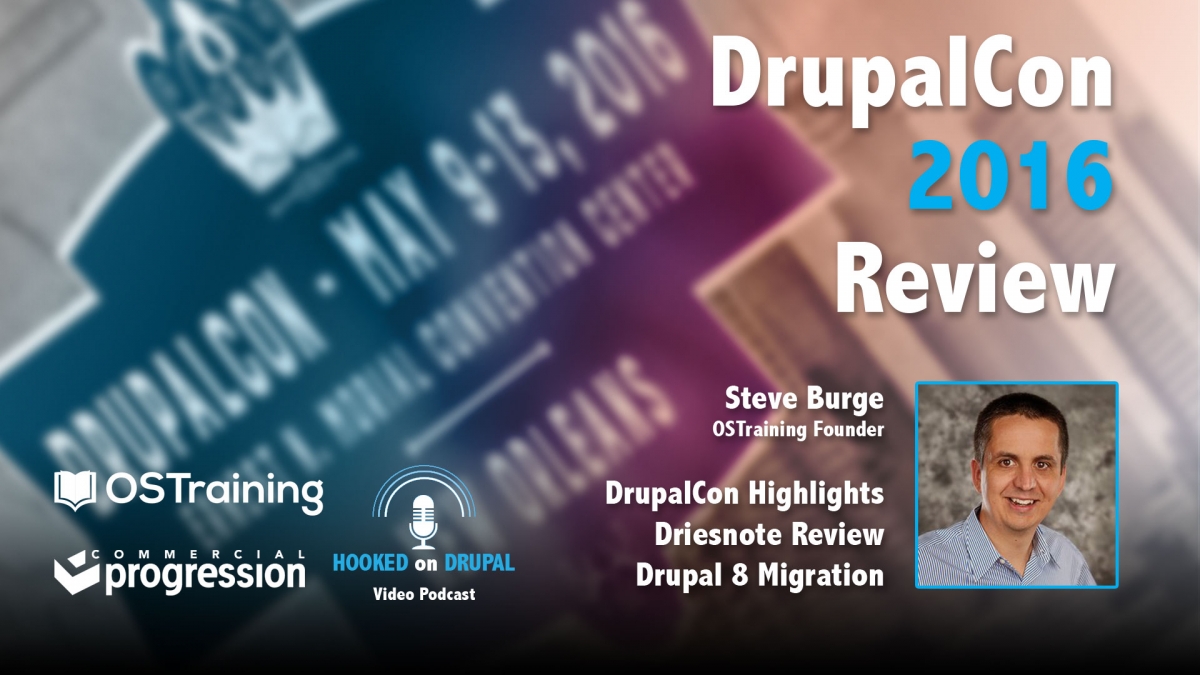 TagHooked on DrupalDrupalConDriesnoteDrupal 8MigrationUpgradeDecoupled Drupal