challenge.
The School of Kinesiology is one of the fastest-growing areas of study within the country, with a 50% increase in the past decade. With all of this attention and activity, administrators, students, faculty, and research staff needed a central portal to publish their work online. Conferences hosted by the School of Kinesiology have also become a prime opportunity to publish content and meet prospective students. The new website needed to facilitate these special events, alongside traditional recruitment open houses. Their existing Drupal 6 website contained most of the existing content, requiring a smooth migration with the overall redesign.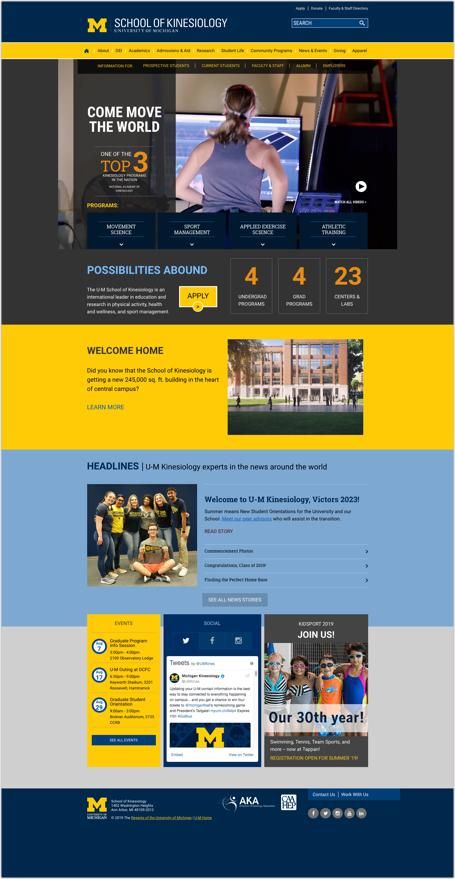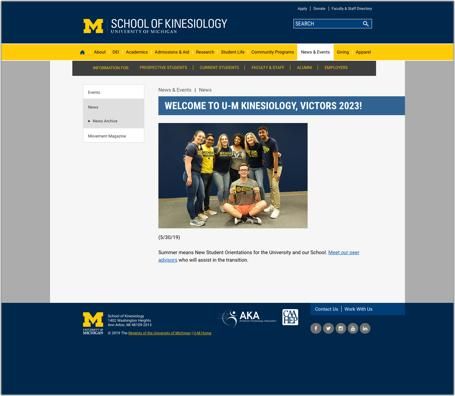 the solution.
Since the School of Kinesiology was already familiar with the Drupal 6 platform, we were able to keep the existing workflows and migrate usable content quickly. The content administration side of the site was customized to allow for reusable content blocks, greatly reducing the amount of redundant data entry for site contributors. A mobile-friendly responsive design was employed to ensure that every page rendered correctly on desktop browsers, smartphones, and tablets. Working directly with design for the new Kinesiology website, Symmetri Technology developed and deployed a custom Drupal theme.
results.
The finished project launched on time and under budget for the start of the fall recruitment season. The new Drupal-powered Kinesiology website featured captivating videos to attract prospective students, a deep archive of research data to support the graduate programs, and useful tools to encourage the campus wide U-Move fitness program.
let's build a braver digital world.