challenge.
Aspira (formerly RA Outdoors) provides support software and services for state parks, private and local campgrounds, wildlife and fishing agencies, and more. Through their newly created positioning, Aspira is committed to creating a better world and helping communities make a difference—while often gaining loyal and passionate advocates. Symmetri was charged with redeveloping their website to convey the new name and brand, as well as provide a better user experience for their audiences to receive information and contact their sales team.


solution.
After conducting a rapid, multi-day immersion session and design workshop, we created key personas, journey maps, and wireframes. A key design element was using nature-based quotes throughout. The balance lied in having an organic feel while also including appropriate technical information. Symmetri built the site using Drupal 8, a flexible content management system that would enable Aspira to quickly and easily edit and add content as new modules of their software were added. From privately owned campgrounds to publicly operated parks, everyone can now enjoy a more meaningful user experience.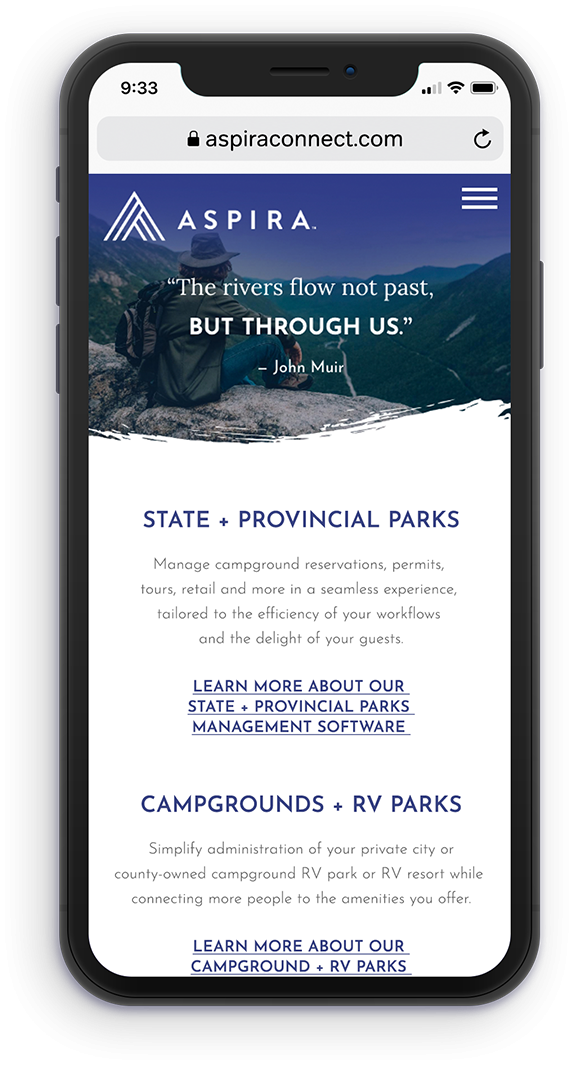 results.
The client was thrilled with the new site. It reflected the new brand, differentiated itself from competitive websites, created an engaging customer experience, and clearly conveys the uniqueness of their software and services.
let's build a braver digital world.